NHL Postseason Storylines
The Stanley Cup Playoffs, in my opinion, are the best playoffs in professional sports. It's an exciting, hard-nosed style of play that tends to bring out the best in players, and turn good players into household names. Everybody remembers the heroic moments in a playoff run, and everybody wants to know who is going to be the guy to make that run this year. This year especially, there are plenty of storylines heading into the playoffs between dynasties, expectations, and veterans making one last run.
Will a Dynasty be Born?
The Tampa Bay Lightning have a chance to do what no team has done in the last 40 years: win three consecutive Stanley Cups. Tampa has a high powered offense, a top goaltender in hockey, and experience in knowing what it takes to win. An incredible grip of veterans, highlighted by Nikita Kucherov, Victor Hedman, and captain Steven Stamkos, have provided great mentorship to younger stars such as Brayden Point and Andrei Vasilevskiy. Tampa Bay is a team built off of depth and forcing other teams to have their middle or bottom six players to beat them. Using their depth to their advantage, the Lightning can make a good run into the playoffs.
If there is anything to be nervous about, it would be their road to get to the finals. They play in the best division in hockey, with each team in their division making substantial additions at the deadline while Tampa opted to add only depth pieces. Florida, the best team in this regular season, added veteran leaders in Ben Chiarot and Claude Giroux at the trade deadline. The Bruins made a move for defenseman Hampus Lindholm to sure up the blue line. Toronto added Mark Giordano and Colin Blackwell in hopes to make it out of their first round matchup with the Lightning. Tampa still has the talent to make another cup run, but this will be the first time in four seasons they are likely not the favorites to make it out of the Eastern Conference.
Curse of the Presidents Trophy
Sports culture has a tendency to be known for superstitions. Hockey is no different, with multiple superstitions and curses, such as not touching the conference championship trophy after winning your conference. The biggest, and most notorious superstition or curse in hockey, is the curse of the Presidents' Trophy. Presidents' Trophy is awarded to the best regular season team in the NHL based on points. This year, that team ended up being the Florida Panthers, accumulating a staggering 59-17-6 record for 124 points. Arguably the favorite heading into the playoffs, should they be worried about the curse of the Presidents' Trophy?
Recent history tends to show that those who are the best in the regular season, don't even make the cup finals, let alone win. In the last 15 seasons, only the 07-08 Red Wings and 12-13 Blackhawks managed to win both the Presidents' trophy and the Stanley cup in the last 15 years. Of the other 12 teams, only two others made it out of the second round of the playoffs. And jumping back to Tampa's commentary, they are in the hardest division in hockey. Their first round matchup will be against , who has a lot of guys that know how to win a Stanley Cup. Only Patric Hornqvist of the Florida Panthers has ever lifted Lord Stanley at the end of a season. Could their lack of Finals experience come back to haunt them?
Pressure for Canadian Hockey Teams
1993. That was the last time a Canadian hockey team won the Stanley Cup, and anybody who plays there knows it. This year three Canadian teams have made the playoffs: Calgary Flames, Edmonton Oilers, and Toronto Maple Leafs. Not only does each team face pressure, the type of pressure they face is different. Toronto faces the pressure of even making it out of the first round, having lost their last seven playoff matchups and not making it out of the first round since 2004. Their biggest issue is the fact that their best players, being Auston Matthews, Mitch Marner, and John Tavares, have all faltered in the playoffs and shoulder most of the blame. No Leafs fans ever feels safe until they have officially won the game and move on to the next round.
Edmonton, ironically enough, has the exact opposite issue. The ONLY players that have played well for the Oilers in the playoffs have been superstars Connor McDavid and Leon Draisitl. They have gotten little to no support from the rest of their team as a whole, putting more pressure on the best 1-2 punch in hockey to be exceptional. At best, the goaltending has been pedestrian, defense has been abysmal, and depth players haven't provided anything of substance. Edmonton is desperately trying to prove that they have a winning culture going back to their 2016-2017 playoff run, but this isn't peewee. Two players can't carry you to a title.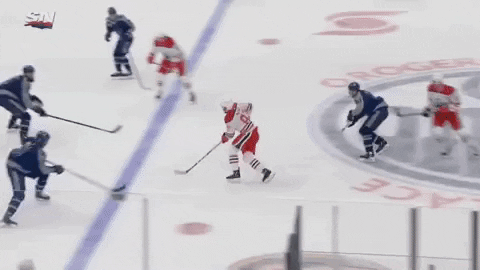 Calgary Flames have the pressure of having to be great in the playoffs. They are the Pacific division winner, second best in the West behind Colorado, and have multiple pending free agents heading into the offseason. This has been their best chance to win a Stanley Cup since 2004, and they have to jump on it. Johnny Gaudreau is likely headed out the door, Matthew Tkachuk needs a new contract, and Andrew Mangiapane is also
Looking to get paid given his breakout season. Calgary also only has three picks in this year's draft, a second, fifth, and seventh round pick. Relying on goaltender Jacob Markstrom isn't a bad strategy, as a hot goaltender could carry a team to a cup final. But given their status in the hockey world and hailing from the great white North, the pressure they feel will be magnified.
Wild vs Blues Could be a Classic
Oof, this one is going to crush one of these fanbases, as the two hottest teams in hockey are slated to face off in the opening round. Since March 27, Minnesota and St. Louis have the two best records in hockey, combining to go 28-4-5 in that stretch. It's not often we see two teams that have been this electric facing off in the first round, which also highlights the issue of having divisional matchups hinder the chance for the best series later on in the playoffs. Wild goaltender Cam Talbot has gone unbeaten in regulation in his last 16 starts, while St. Louis has been using their highly efficient offense to win big games.
Both teams find themselves with one glaring issue. For Minnesota, it has to be their lack of center depth. St. Louis is one of the deepest teams down the middle in the playoffs, and can look to expose that against their divisional rival. They have very capable wingers that can put the puck in the net, but I have to question the likes of Frederick Gaudreau driving the second line. For St. Louis, I have no idea where their goaltending stands. I imagine second year goalie Ville Husso gets the nod game one, but is he ready for this moment? He hasn't played in any true meaningful NHL games as of yet and had given up 3 or more goals in five of his last six outings. Jordan Binnington, who was once in Husso's position for their 2019 Cup run, has been awful this year. I don't know if coach Craig Berube will trust him with the reins right now. I think either way, this series will come down to St. Louis' goaltending and their play will dictate who moves on to the second round.
Action in the Big Apple
I hear a lot about this year being the Rangers year. At first glance, I laughed it off and didn't think anything of it, because they didn't have the depth or gritty players to win a cup. Also, most Rangers fans I encounter say every year is their year. But the more I think about it, the more real the possibility becomes. They brought in multiple depth pieces at the trade deadline, arguably the winners of the deadline, they have the goaltending, and could have the road to get there. A first round matchup with a Pittsburgh team that New York smacked around all year and no starting goaltender in Tristan Jarry for the Penguins could pave the way to the second round for the Rangers. The next round they'll see the winner of Boston and Carolina, both of which I think outmatch the Rangers offensively but also dealing with goaltender issues. Carolina has an injured Frederick Andersen while Boston has a decision to make between which goaltender they are going to use.
In order to make a run at the finals, they need a few things to fall their way. They need to get lucky in regards to how other teams perform, as they all have to take each other out. The Rangers may have one of the easier roads to the conference finals and should use that to their advantage. Secondly, they HAVE to find secondary scoring somewhere. I've said it all year that this and possessing the puck was their problem. Chris Kreider can't put up 30 goals in the playoffs. Players like Barclay Goodrow, Frank Vatrano, and Andrew Copp are just some names that will play a key role if the cup comes back to New York for the first time since 1994. Finally, Shesterkin has to be as good as he was in the regular season. The eventual Vezina winner has to keep that form in the playoffs. He's played well in the KHL playoffs in the past, but only has one game of NHL playoff experience. If he can give them the goaltending they need, look for the boys in blue to make a run to the conference finals, maybe even further.
Can Colorado Stay Healthy?
Colorado, had they not been playing with injuries for the last two years, probably could've had a cup by now. Their best chance in 2020 was making it to the second round, where they lost two star forwards and had to play with a third string goaltender for the end of that series. Their biggest enemy, at this point, may just be themselves. They've had the majority of their top talent miss time at some point this season due to injury and have a history of getting hurt in the playoffs. Nathan Mackinnon, Gabriel Landeskog, Darcy Keumper, Bowen Byram, and Devon Toews have all missed significant time due to injury. Additionally, they come stumbling into the playoffs, having lost six of their last seven contests.
However, Colorado is still my pick to win the Stanley Cup. They have experienced players who have made cup runs, they have more talent than anybody in the league, and they have the hunger after being bounced in the second round each othe the last two years. I don't believe that a team "wants to win more", but I do believe that a team knowing the pain from two years in a row where they should've been in the finals is a motivator unlike any other. This team doesn't have a weak link in their lineup, and I expect that to shine through this spring. The Avalanche may have lost out on back to back Presidents' Trophy wins, but they aren't going to miss the biggest prize of all this year.